Today is a little less Silversteinish, but still a good day for little poems and simple sketches. (The slightly monkey-faced munchkin is actually me from when I was three.)
So, in honor of those who need no fancy toys or video games to "find" something to entertain themselves: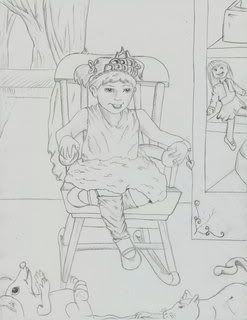 Dance a Dream
Today I want to dance a dream
Open a window and ride on the rain
To catch a butterfly and fly to Saturn
And waltz on the rings in a star dust gown.
Today I want to munch a dream
Dive off my spoon and splash in my bowl
To brave sugary currents on chocolaty rings
And swim with marshmallow bears.
Today I want to gaze a dream
Slide down a rainbow and run through the sun
To fall with the snow in a balloon made of ice
And bounce on thundering clouds.
Today I want to dare a dream
Go on adventures in far away places
To spin on my globe and meet friends where it stops
And see things that I've never seen.
Today I want to play a dream
Visit a dream-house and drive my doll's car
To swim with my fish in his big shiny bowl
And grow in my garden of flowers
Today I want to draw a dream
Climb on my pencil and gallop away
To paint all my fingers and all of my toes
And splash in watercolor puddles.
Tonight I want to dream a dream
Fly among stars with a cape made of wind
To wander and wonder in a colorful place
And play with my friends until dawn
Copyright -- Josin L. McQuein -- 2011