I'm feeling a big Shel Silverstein today (Yes, it's an actual feeling.) You remember his little poems from elementary school, right? Simple language, simple line drawings, and unusual stories that you can probably still recite.
To that end, I did a (hopefully) Silverstein-ish bit of silliness. It was fun, and I may make a habit of posting similar little ficlets.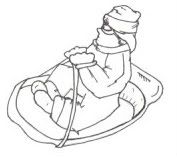 The Story of Livingston Kidd
This is the story of Livingston Kidd
Who slid, and slid, and slid, and slid.
He slid down the stairs, and on out the door,
Crossed his front lawn, and then slid some more.
He slid down to Main Street, past the stop sign,
Passed Maple and Elmwood, still doing fine.
But between going zoom, and practicing loops,
He thought about something that made him say, "Oops".
It was a biggish big deal, like some kid mistakes -
When building his slider, he didn't build brakes.
So Livingston's sliding with no way to stop.
He's seen the world's bottom, right up to its top.
He's seen mountains and oceans, a city called Gnome,
And hopes someday soon he can slide his way home.
Copyright -- Josin L. McQuein -- 2011